In the next few weeks, your wiki will be migrated to a Fandom.com domain. Learn more here.
Bots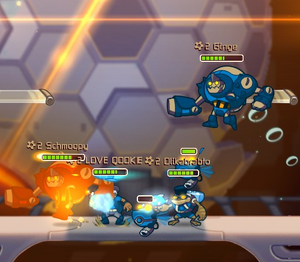 Bots are AI-controlled Awesomenauts used by the game to form a full three-member team when there are no players available or when in practice mode.
In online play, they are replaced when a player joins the match and return if a player leaves or disconnects.
Originally, four Awesomenauts had fully functional bots: Clunk, Froggy G, Lonestar and Leon. Patch 2.6 improved the existing bots and added nine new Awesomenauts bots, as seen below.
Patch 2.6 Reloaded added new AI-controlled opponents to the game. These are community-made bots by using the AI Editor included in Patch 2.5 Shadows of the Void and were tested by Ronimo Games and the community before being officially added to the game.
The new bots are: Ayla, Coco, Genji (removed in Patch 2.8), Gnaw, Raelynn, Skree, Swiggins, Ted McPain (removed in Patch 3.1.5) and Vinnie & Spike (removed in Patch 2.9).
A second batch of bots was added in Patch 2.8 Contact
The new bots are: Derpl, Penny (removed in Patch 2.10), Raelynn, Scoop, Sentry, Skølldir (removed in Patch 3.1.5) and Yuri.
All community bot creators are awarded a Golden Gearlyfish

as thanks for their services.
Bots have special attributes (or "cheats") to help them against actual players, such as reduced cooldowns and more Solar. These cheats are activated upon the bot death and get stronger after each subsequent death. This "cheating" was added in patch Patch 1.15
Bots can be identified by their differently colored name, the (bot) tag (although this can be imitated by actual players) and by the gear symbol shown before their names.
When playing a practice match, it is possible to choose the bots' difficulty setting. There are six different levels to choose from.

As of Patch 2.6, bots fight at 60% (level 3) difficulty. The higher difficulties are for custom games only, if players want an extra challenge.

In a private match the host is able to choose the bots' difficulty, the other players are only able to see which setting the host choses.
As of Patch 1.21, bots drop 10 Solar upon death, except in practice and private matches, where they drop 30 Solar.
[NautGood]0
[SLD] Ikke
/dev/null
26209
a Minion
Adam
Adamios
Adamon
AdyB
Aemaeth
Aerlfredith
Aivopossu
AJontyHero
Amethyst
AndyK.91
Andyroo
aNewBug
Angevaric
AngryKrogan
Anrieke
Anthony
Applejack
AyLee
Azure's Bot
B. Dodds
B.Renface
BabySeaghan
Bamibot
Bart
Bax
Bazambot
Bearsworth
beowolf76
BestPony
BGBBot
Binary Rain
Bisso Bot
Blabl
Blackreaper
Blahbot
Blundermin
BooMBoxUaE
Botbelly
Bott Damon
Bustamante
Caderyn
catgif
catsofsedum
Checkbooty
Chicken|Cow
Cicatrix
Citrus
Claire
Classy Bot
Clever Girl
Clint
Clockworks
Clunkaussaur
Comet bracer
Cookie
Corax
Corp2L
Cosby Pigeon
Cosmonaut
Cowctus
Coxbot
Coze
CptMcFly
Crashman
Crixus
CuteNCudly
Cyres
DaBugMan
Daltoad
Dane
Danix
Darieu
Dazno
dcom
Deathstroke
Declan
DeKilla
Den Den
Dennis Fuller
Denny
Derp-a-Tron
Destoroyah
Det
Detheavn
Dexter
Diddlebot
Dion
DJ Archangel
Dokupe
Dr Nick
Dr. DaBot
Dr.Crouch
Dramanator
Drax
Drizzle
Druidc
Dulcey
Ecclusiarch
Eddina
EdwinHarris
Eggy
Eggy G.
Einstein
Elcidthehero
ELISE
Elsie
EnviousCow
Epic Error
Equil
Eric
Espresso
EWC
Fabinaab
Firestix
Flargle Stump
FlyingPhish
Fonzie
Frailulu
freekill
Froth Dog
FurryRage
G-Dov
GCX_Clan
George White
Ghee
Ginge
Glitch
Gnare
Gnomeington
GooBot
Gorbear
GraineagBot
Grimtendo
Grosdoriane
Gudelzepher
Handsome Max
Hannecks Bot
Hanzzo
Hardcastle
HarryButchers
HarrysManor
HarvDevil
Hastur
Heaton
Hellohumanz
Himinoid
HowIdothis?
Hoxton
I Carry You
Ibanez
Icecap
ICO_BOT
iHateHeff
Im Blue
Immak
Ishthulhu
Jag
James
Japster
Jcgswims
JefeRoboto
Jeffrey
Jenomancer
Jethro
Jezza129
Jmanitou
Joosty
Joshwah
Judge Gerome
Julius
JuniorPOW
Kalbot
Kalif
Kapotto
Kave
Kay
Kewn
Keyrune
Khashix
Kitchen
kiwi
Kiwieend
Klinderas
Kngrichard
Korektor
Kreyos
KW Bergman
L.R.-Lab Rat
L.R.-Theory
Laharl
Lampshade
LandShark
Le Frager
Le Genereux
LED JOE 3
Lerian
LittleFreak
LordGravy
LOVE QOOKIE
Luiza&Duque
Luna
lunchpod
M(N1(|-|0J
Machiel
MacN'Cheese
MANNS
Manwich
Marduku
MarmotteQc
MartinK
Martinos
Maui Lion
Max
mechanikism
Mermaid
Miasthmic
Midori
MiketehTV
Mikey
MilkButler
minostry
Minty
Minxling
Mitaki
Mitcho
Moles Holes
Mongrel
Mooglebot
Moograwsso
Moots
Mr Magic
Mr. Adam F.
Mr.Scraggles
MrLebowski
Muffin
muiku
n00bzerMcGee
Naas
Nacho
Napolomew
nazdagor
neish
Nerderella
Nightfawx
NINLord
Nirakolov
Nix
Noam
Nobs
Nodjinha
Novak
Nyarlathotep
Olikabrabto
Olikatjoeroe
OneShOoot
OwlishBot
Pa1nk1e 3,14
Pandora
Paul
Paul DeLols
PeeWee
Penguin_P
phusion689
Pillz
Pink Husky
Pink Pummy
Piraguin
Pokes
Potatoface
PWN_D Crew
Radish
Ragnarok
Rahsas
Rainboom
Ralphinator
Rancid
Raury
Reay
Rex Grave
Ridentlor
Rob
RockyFatBack
Roi
Ronma
Rorelas
Rossatron
Roxyn
Royklein12
Rude Robot
Runefyre
Ryzaien
Saget
Sander
say u tin
Scarabot
ScarletOcelot
Schizo
Schmoopy
Selsel
SeraphIV
Shaduw
Shaobot
Silver
Sitrus
Slim Jim
Slippy
SloppenBot
Somayeh
Sonna
Spanzelbot
Sparrow
Spitfire
Squibbot
Stalinofgoo
Star \o/
Star Swirl
Stefan
Stelmos
Stitch
Stoner(bot)
Strindberg
Sujuki
SuperTamaru
Sweetie
TeamxEggs
Ted
Teroniz
TesserWreck
Thanarys
The Fist
The Oracle
TheGamePixel
TheKaiBear
TheNCRbot
ThickWrecker
Thomas
ThunBeast
tijgar
Tim
TmT
TNT46464
Traicor
Traktal
Tremzoff
trisc
Tubnauts
Turuleka
Tuur
Urger
USS Espejo
Vauly
Veltier
Venesect
Vex
Vincenzo
Viper
Viper
Waffletime
Watoh Bird
Wieland
Wise Turtle
Wonko
Woogiewoo
WoolySnarf
Wyzyrd
Xin
y0sH_b0t
Yorick
Yoshy
Your Rival
Yurrwatkrah
yweiler
Zakam
Zaneaus
Zelené
Zeraxxus
Zerial
Zibbat
Zlyne
ZO OZW
Various bot names are a reference to Ronimo Games' team members. (Such as Ralphinator being a reference to Ralph Rademakers, Fabinaab being a reference to Fabian, etc.)

Other bot names are homages to the various YouTube voice actors in the game. (Coxbot is a reference to Jesse Cox, Clint is a reference to Clint "Myndflame" Hacklemen, ect.)

Several other bots are named by community members who donated to the "Thorium backer" tier (or higher) in the Awesomenauts: Starstorm Kickstarter. Some of these are named after in-jokes: (such as nazdagor, Kitchen, Sparrow, for instance).