In the next few weeks, your wiki will be migrated to a Fandom.com domain. Learn more here.
Events
Ronimo Games and Awesomenauts' community members often host varied events related to the game content in some way. These range from tournaments and livestreams to announcements and interviews.
to be added...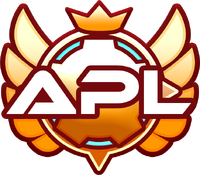 The Awesomenauts Pro League is the official Awesomenauts tournament created by several community members and recognized by Ronimo Games in a partnership. The tournament is organized and accepts players of all skill levels, relying on a ladder system designed to pair them with teams of similar skill.
There are currently three main tournament modes in the APL, and each of them has unique rulesets.

APL Gold & Silver This is the classic APL mode, and occurs every six months. A point system sets the plays in three distinct divisions named A (top 8 teams), B (9-16 teams in rank) and C (17 or lower teams in rank), with the top players of "A" tier competing in APL Gold and the top players of "B" competing in APL Silver. Newcomers and players not up to par with higher tiers are placed in "C" tier and do not compete in the tournament unless they can move up in rank.

APL MegaBrawl This tournament occurs monthly and allows for teams to gain points outside of the current season and balance the scales. To achieve this, the top 6 teams are banned for the first three months, giving teams in lower ranks an opportunity to earn points and possibly compete in higher league play.

Seasonnauts Seasonnauts occurs twice per APL season (approximately every 3 months) and was devised to show the community the APL's ruleset and game modes and does not award points for the point system. There is a total of 16 teams competing in this tournament: The top 8 A division teams, the top 6 B division teams and finally the top 2 C division teams.
Catti - Production Manager
IshidaTsuki - Commissioner
RancidRodent - Creative Planner
SlowWolf - Community Manager
APL 1 (Jan. 12-15)
1st place: Jelly Ink Stickers
2nd place: AWFUL
3rd place: 3 Headed Monkey
4th place: Vega
APL 2 (Mar. 9-11)
1st place: NerfPlz
2nd place: AWFUL
3rd place: 3 Headed Monkey
4th place: BadAku
APL:Invitational (Aug. 9-11)
1st place: Discovery Channel
2nd place: BBQ
3rd place: NerfPlz
4th place: 3 Headed Monkey
Nov. 2-3 & 9
1st place: Discovery Channel
2nd place: Right Click
3rd place: Techno Prisoners
4th place: Nautorious Nauts
The Awesomenauts Worldwide Championship is a tournament run solely by community member Harrysmanor. The tournament consists of 70 teams from different countries, which initially battle internally against among themselves. The winners of each country's bracket then compete against each other in the Mixed Countries Bracket and during the Finals, which will take place at December 21st.

The event is streamed live at the AWC's official TwitchTV channel and awards prizes to the top 3 finalists.
First Place: Team Right-Click
Second Place: Team Discovery Channel
Third Place: Team Three-Headed Monkey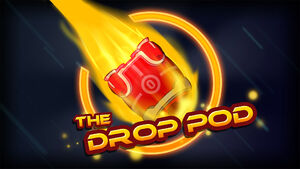 The DropPod is a weekly podcast featuring Awesomenauts community members FourCourtJester, SlowWolf and Weazel. Together they discuss anything Awesomenauts-related, including current balance status, tournaments, builds/strategies and upcoming game content. They frequently have guests attending, amongst which the Ronimo staff members, and are known for handing out prizes at the end of their show quite frequently.

The DropPod podcast is usually featured on the APL's official TwitchTV channel, although it has been featured Ronimo Games' TwitchTV channel before.

The intro to The DropPod can be seen below: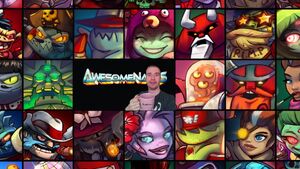 Before Awesomenauts receives a new patch aimed at adressing balance issues, its contents are usually discussed between Ronimo Games and select members of the community playerbase.

Devised by by community member and beta manager/Balance MVP Niko with the purpose of informing the community of part of the balancing process, the "Balance Talk" project was presented to Ronimo Games member Fabian Akker who agreed on taking part in it.

Balance talk is a livestream series featured on Ronimo's official TwitchTV channel and consists of Fabian meeting with experienced members of the community to adress issues relevant to Awesomenauts' balance gathered from their own experience and playtesting as well as from Awesomenauts' balance subforum.

Previously they would discuss several changes to most or all of the current character cast, but as this model proved to be too time-consuming, it was reworked to focus on three 'nauts at a time, with only minor, sporadic changes being directed at the rest of the characters.

The theme song for "Balance Talk" was created by community members Weazel and Keshet specifically for this event. It can be heard below:
Ronimo Games often announces new content for Awesomenauts and its subsequent expansion pack, Starstorm, using a variety of media.
Awesomenauts' official website keeps track of most of the game's updates. It also features general information about the game, the cast of characters and has a library of videos, screenshots and wallpapers available.
A place for the Awesomenauts community to discuss various aspects of the game (as well as an "off-topic" subsection), the Awesomenauts Forum, is where Ronimo Games members (identifiable by their red-colored nicknames) announce the patch notes in detail, provide technical support regarding bugs and other issues in the game as well as post other, Awesomenauts-related news.
Davey
Gijs
Fabian
Jasper
Joost
Kewn
Maarten
Martijn
Machiel
Olivier
Ralph
Robin
ronimo-games
Thijs
Tim

The forum is moderated by "Adminauts": community members chosen by Ronimo Games to help them deal with spam and inappropriate behavior that conflict with the Code of Conduct. These are identifiable by their yellow/golden nicknames.
Alpha Z
Clever Girl
Devmon52
Emo Chapington
FishmanDerp
Niko
SlowWolf
Finally, the forum is fully compatible with the Nautsbuilder app, allowing users to make and share builds with the rest of the community.
These are pages were Ronimo Games uploads a variety of incoming or new content for Awesomenauts, such as Awesomenauts Showcases, new characters, skins or maps and several livestreams.