Range
Attack Range is the length an attack can travel before dissipating. Both abilities and attacks can have upgrades aimed at increasing range.
Calculating percent range increase
[
edit
|
edit source
]
A simple mathematical formula can be used to calculate the how much (percent-wise) an upgrade provides to an ability, as seen below: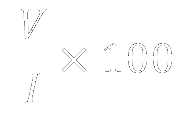 Where "V" is the value of the upgrade (final range - base range) and "I" is the initial (base) range of the attack/ability. So as an example if a skill has 2 range and its upgrade gives +4 range the formula would be 4/2 x 100 for a 200% increase.