The Codfather
The Codfather [edit]
135
Description:

Increases damage of bubble gun to wealthy enemies. (150 solar)

SALE! Now for an offer you can't refuse!

Upgrade
Lv1
Damage
+34%
Range
22

The Codfather is an upgrade for

Vinnie & Spike's
Bubble Gun.
The damage of Bubble Gun is increased by 34% whenever enemy Awesomenauts with 150 Solar are within 22 range of Vinnie & Spike (spent Solar does not count), making it 3 bubbles of 42.88 damage each for a total of 128.64 damage. Vinnie & Spike will glow when a rich enemy is nearby even if they are invisible.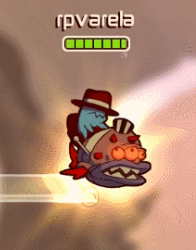 The icon, flavor text, and name of this item are references to the novel (and movie adaptation) The Godfather[1]. The icon itself is based off of Marlon Brando[2] who played the character of Don Vito Corleone in the movie version.
This item used to be called The Godfish before Patch 2.3. It was possibly changed to avoid confusion with Bag Full of Gold Fish, another Vinnie upgrade.